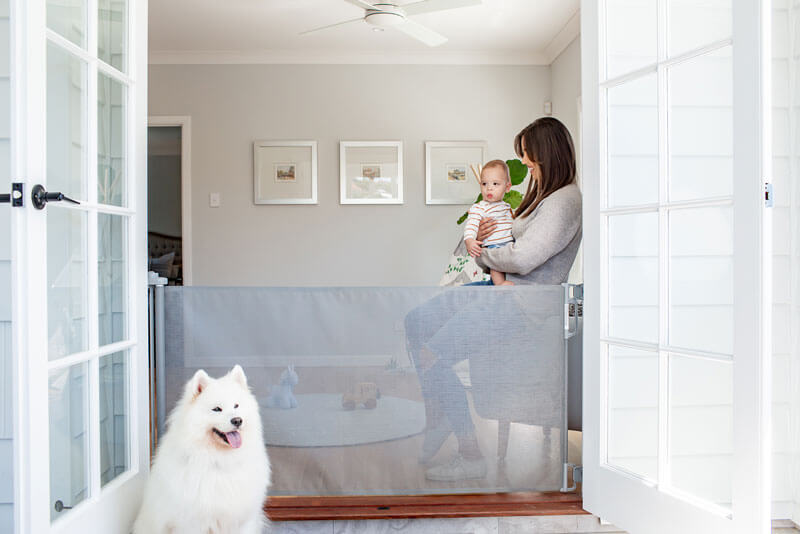 How To Safely Introduce Your Newborn Baby To Your Dog
Dogs make a great first pet, and many families go down the path of adding a puppy to their family, long before they are ready for a baby. When the time does come and a baby is on the way, it's important to prepare your dog for big new changes. Just as you prepare an older sibling for a new addition to your family, the same should go for your pet. Here is a step-by-step guide on how to safely introduce your newborn baby to your pets.
Preparing Your Dog For A New Baby
You may be feeling a bit of apprehension about introducing your pet to a new baby and bringing the baby home for the first time. Don't worry, this is normal and you aren't alone. Over time, your dog and baby will likely become best friends and will form a bond that is so special. It is just important to make sure you set this relationship up on the right foot, ensuring your newborn is safe and your dog doesn't feel ignored. It's a delicate balance, but once you get it right, it will result in a loving family home.
Step by Step Process (Before The Baby Arrives)
Preparing your dog for a tiny human should start long before you bring your new baby home.
Keep them involved:

 

there is a lot of preparation during the nine months of pregnancy, with many changes, such as setting up the nursery. Let your dog be part of it and check out the new room. It's a great chance for them to get used to new sights and smells, so it all becomes familiar early on.
Take the time to teach your dog new skills:

 

if they haven't yet mastered the skills of 'sitting', 'staying' and other basic commands, now is the time to invest. These will be very useful during those early days with the baby.
Dogs crave routine

,

and this is about to be turned upside down. To make the adjustment as easy as possible, make changes before the baby arrives. Whether this means less walks, less attention, sleeping somewhere new at night, have a think about how things might change and doing it ahead of time.


Step by Step Process (When The Baby Arrives)
When it comes time to introduce the baby, don't force it.

 

Let the dog approach the baby, while someone holds their collar (or pop them on a leash). Make sure you stay relaxed and talk to your dog calmly. First impressions are important and you want your dog to have a good experience right from the start.
After a few days, let your dog near the baby off the leash.

 

They should be used to their sight and smell now. Of course, still have an extra person nearby to monitor. Over time, you can trust your dog more around the baby and relax more and more with it.
Keep boundaries.

 

Use the baby gates you have already set up to keep those boundaries in place. Your dog should already be used to them, which will make things easier. It will allow you to pop the baby down in their own space where the dog isn't allowed.
Make sure your dog is still getting the right amount of attention.

 

Remember, you may have dropped this in preparation for the baby as suggested above, so now is the time to maintain the same level.
This is the start of a beautiful, lifelong friendship, so it is important to set it off on the right foot. Using these tips, it will be an easy adjustment for everyone.
---